Welcome to We Want to be Taught!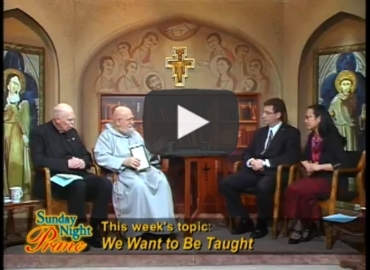 With knowledge comes power. With knowledge of our Catholic Church's teaching comes eternal guidance and wisdom. "We Want to be Taught!" is a grassroots initiative from the laity and religious to request that the Magisterium of the Roman Catholic Church publish, for the Universal Church, an Ordinary Sunday catechetical lectionary. The implementation of this initiative, which takes place in phases, will help combat the catechesis crisis we face in our Church today. Moreover, it will better equip the Body of Christ against the Culture of Death.
It was Pope Emeritus Benedict XVI's request that all of the faithful read and study the Compendium and the Catechism of the Catholic Church. The Pope's request can become a reality by introducing a temporary catechetical lectionary during the Mass on 26 Ordinary Sundays for Year A in 2014. Then in 2015 another temporary lectionary can be introduced for Year B followed by a third for 2016, Year C. Finally, for 2017, the 100 anniversary of Our Lady of Fatima, a full catechetical lectionary can be produced! This would be quite fitting as Pope Francis has just dedicated his pontificate to Our Lady of Fatima!
Pope Paul VI gave us Vatican II, Blessed John Paul II gave us the Catechism, Pope Emeritus Benedict XVI gave us the Compendium. Joyfully, we pray that our Holy Father Pope Francis grant us, the Universal Church, this much needed gift of an Ordinary Sunday Catechetical Lectionary. Our Catholic Church has the world's largest media outlet – the pulpit! Starting with this Year of Faith, it is the perfect time to re-evangelize our Church! Evangelizing 1.2 billion Catholics has the potential to evangelize the whole world!
Our Church needs your voice! Join us in asking the Magisterium to grant us an Ordinary Sunday catechetical lectionary for use in every parish around the world by clicking on the "Add Your Signature Now!" button below. This initiative is in full communion with the Roman Catholic Church, and will always be obedient to the Magisterium. Be sure to share it with others!
Priests, religious and laity are signing up around the world!
No front page content has been created yet.