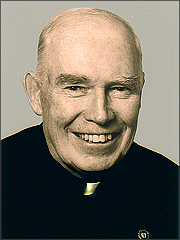 Msgr. Philip J. Reilly
- Priest, Diocese of Brooklyn, NY
- Resident Chaplain to the Cloistered Sisters Adorers of the Precious Blood
- Founder of "We Want to Teach! We Want to Be Taught!" (For the most frequent updates follow on Facebook)
- Founder of the Helpers of God's Precious Infants
Msgr. Philip J. Reilly, is a priest from the Brooklyn Diocese and is the founder "We Want to Teach! We Want to Be Taught!" Msgr. has dedicated himself to teaching and living out the Catechism every day of his life through his priestly ministry and through the non-profit organization he founded, The Helpers of God's Precious Infants. The Helpers are a prayerful group of people around the world striving to help mothers keep the life in their wombs. He began promoting the idea of the Catechetical lectionary starting in 2005. Now that the Pope Francis' Secretary of State has given the green light to promote WWTT - WWTBT to our Bishops and Priests it is in God's hand. BUT, we need your help! Keep sharing it with others and let's get those signatures in. We have also received positive feedback from Cardinal Burke, Cardinal Timothy Dolan, and other priests, deacons, seminarians, and laity around the world.
About Msgr. Philip J. Reilly
Msgr. Reilly holds a degree in Philosophy from Cathedral College, a degree in Theology from the Catholic University of America, D.C., a Masters in the Classics from Fordham University, N.Y.C., and an Honorary Doctor of Science from the School of Medicine of Tinava State University in Slovakia, has served the Diocese of Brooklyn, New York, as Parish Priest for 5 years, and for 26 years at Cathedral Preparatory Seminary as Seminary Professor, Prefect of Discipline, Academic Dean, Basketball & Chess Coach and Rector and for the past 23+ years as Spiritual Chaplain to the Sisters Adorers of the Precious Blood at Precious Blood Monastery. During this time, Msgr. has been involved in many programs such as the setting up of educational programs to insure minority leadership, The Father Troike leadership Program; establishing groups to provide help and guidance for widows and widowers; beginning and coordinating a Diocesan wide Natural Family Planning program for engaged and married couples; working with various agencies to alleviate world hunger. However, the overriding issue for the past 47+ years has been the defence of the Sanctity of Life. For more on Msgr. Reilly and awards won please visit the Official Helper's Facebook page.
History of the Helpers of God's Precious Infants
On the Feast of the Rosary, October 1989, Msgr. started the Helpers of God's Precious Infants, whose goal is not only to offer help to women coming to the abortion mills, but also to maintain a prayerful presence, large and small, at these sites to pray for the conversion of hearts. Every month, since June of 1990, Bishop Daily has led the Helpers large Prayer Vigil in the Diocese of Brooklyn. In October of 2003 Bishop DiMarzio led the Helpers Prayer Vigil. The results have been blessed. More than twenty clinics have closed in the Diocese of Brooklyn and more than twenty thousand women have left the abortion mills choosing life. The Helpers' approach is now being used in at least 40 States with more than 100 Bishops and 5 Cardinals having participated. The Helpers' apostolate has now spread not only throughout the United States and parts of Canada and Western and Eastern Europe but even as far away as Australia, New Zealand and parts of Africa and Asia.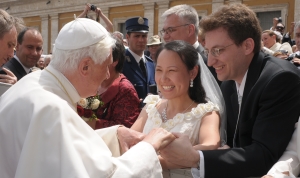 Craig and Wenqi Glantz
Craig and Wenqi Glantz are the volunteer coordinators for "We Want to Teach! We Want to Be Taught!". They are both converts to the Catholic faith and were married by Msgr. Reilly in 2009. Craig converted from Judaism in 1999 and Wenqi (born and raised in Mainland China) was a non-believer who converted in 2006. Craig and Wenqi's involvement with "We Want to Teach! We Want to Be Taught!" began after spending many nights at the Monastery listening to Msgr. Reilly unfold the massive plight of the pro-life movement in America, especially since Humane Vitae. On the New Year's Eve of 2013, Msgr. Reilly began sharing about the importance of being educated in the Catholic faith. He had developed this initiative in 2005 but there was not a name for it. As the three brainstormed the name just popped out, "We Want To Be Taught!" That very night Craig and Wenqi were commissioned to create this website and start spreading the word about this much needed movement. Soon after the website was launched, the three appeared on EWTN and the word was spread internationally. In just a few months people from over 1500 parishes worldwide had signed up. Craig and Wenqi live in Philadelphia with their two daughters.